Reusable nylon shopping bags fund new public green space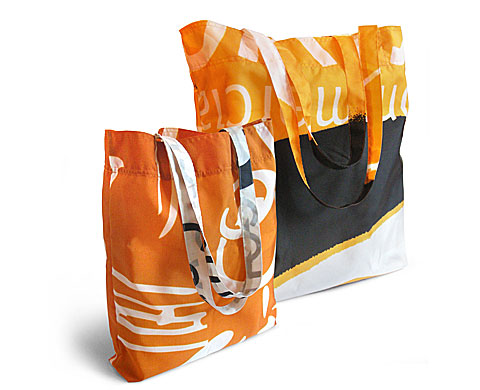 The feedback has been awesome, "great idea", "who came up with this", "I love this!"…
Thanks, Michelle Barile, Coordinator, Commercial Drive Business Society
Challenge
Almost every year the Commercial Drive Business Society prints 256 32" x 60" nylon street banners which help create a festive, colourful atmosphere for this unique shopping neighbourhood. Eventually each edition of these unique designs must be retired. What do we do with all those old banners?
Solution
Rather than sending them to the landfill we came up with a very green idea — transform them into reusable nylon shopping bags! Not a bad start, but how much farther could we take this initiative. Why not use the proceeds from their sale to create new public green spaces in the neighbourhood?
We discussed the possibility of remanufacturing them with Bei Linda Tang, owner of Dream Designs — a clothing and housewares retailer on Commercial Drive. She was very excited about the idea and designed and manufactured the first 3 editions of bags. In her words, "We are pleased to contribute to this fabulous community initiative by designing and manufacturing these shopping bags on a cost recovery basis. Each of them is a unique embodiment of the Commercial Drive history that we are proud to be part of."
Commercial Drive retailers were asked if they would be willing to donate all proceeds towards greening the neighbourhood. The response was amazing! Our only concern was supplying them each with adequate inventory! We now have a revenue stream in place to develop new public green spaces in the neighbourhood.
Results
We researched the embodied energy of nylon fabric and calculated the reduction in environmental impacts. As of December, 2011, by converting old banners rather than using new nylon fabric, this neighbourhood has:
avoided 28,607 pounds or 14.3 tons of CO2 emissions
avoided sending 336 kg (805 lb) of nylon to the landfill
saved 72,790,080 BTUs of energy – enough to provide electricity to an average Vancouver home for over 2.5 years
freed up 1,552 trees to capture and store CO2 from other sources for a full year
When the most recent edition of bags is sold out, we will have raised over $14,000 for our green space fund. The latest edition of bags was produced by the Kettle Friendship Society — a neighbourhood non-profit society that provides employment opportunities for people living with mental illness.
This project has received amazing international exposure; been translated into at least 6 different languages and been featured on dozens of websites and publications around the world. We've also provided details to other business districts that are now emulating this in their own neighbourhoods.
For more information and a complete list of Commercial Drive retailers visit: http://www.thedrive.ca/bags.shtm