Calculator wheel for recycled paper also shows LEED qualifications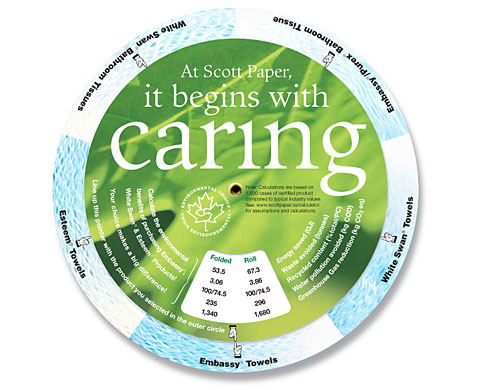 Our sales team is going to love this. Clearly communicating the reduction in environmental impacts and the eco-benefits of our paper products to our customers has always been challenging. This environmental benefit calculator is just brilliant. What a great tool! Can't wait to start using it.
Mark Ray, Scott Paper
Challenge
To design a tool that calculates the environmental benefits of a Scott Paper's tissue products made with recycled paper compared to industry standards. To also explain rewards and benefits available to purchasers through various environmental stewardship programs such as LEED, BOMA, EPA and Green Hotel Association.
Solution
Hand-held calculator wheel. TerraChoice Environmental Marketing provided the research for us to prepare this wheel which calculates the reduction in energy use, landfill waste, water pollution, and greenhouse gas emissions for 5 of Scott Paper's EcoLogo certified tissue products compared to industry standard products. The back of the calculator also details the rewards to purchasers under the 4 programs outlined above.
Scott Paper PDF (240 kB)