Design HQ Inc.
1740 McSpadden
Vancouver, BC
Canada V5N 1L4
T: 604.255.0699
We'd love to hear from you:
Clients
If you've reviewed our work and would like to discuss the possibility of working together please email us.
We're pretty sure the electron is a good thing and it looks like it's here to stay. It has allowed us to successfully complete projects with clients around the globe. You now truly have access to a world of creative potential and we would like to be one of the candidates for your next project.
Suppliers
If you think there is an opportunity to work with us we would love to hear from you. Please email us. We are looking for unusual materials, services and specialty processes that are difficult to obtain regionally.
Designers, Programmers and Affiliates
Would you like to collaborate on projects? We would like to nurture links with complementary firms and individuals. If you like our work and think we could spark some synergy, please email us. Please attach your resume or URL for a look at your work.
What a great place to work!
One suite of our 1906 character duplex is office to Design HQ — just a half block off Commercial Drive — ranked by Utne Reader as one of North America's 10 hippest neighbourhoods!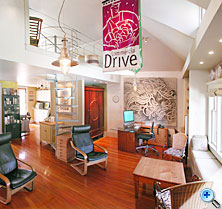 Great work; great digs; great clients! Doesn't get much better than that.