Our 2000 Commercial Drive sampler self promotion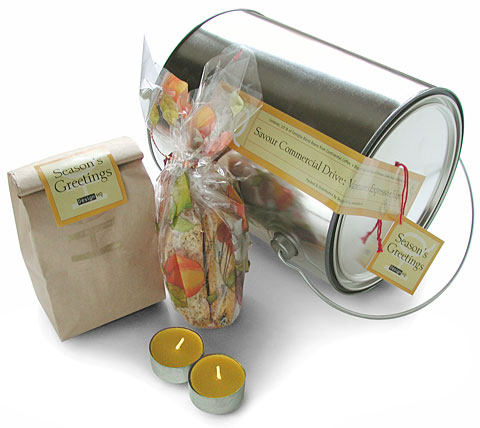 Brilliant! Great! This is so cool. We need to get you on the Board of our new Commercial Drive BIA so you can help promote us as well as you're promoting yourselves!
Irma McInnis, (past) owner, Dream Design, Commercial Drive, Vancouver
Challenge
Design a unique promotional gift that hi-lited not only our business, but our neighbourhood.
Solution
Living and working in one of the most vibrant neighbourhoods in Vancouver, we assembled a gift package that sampled the wares of businesses within a 10 minute walk from our office. We bought new paint cans from Mills Paint that contained a half pound of organic espresso beand from Continental Coffee, pistachio biscottis from Fratelli's Bakery and beeswax candles from Dream Designs. The can was sealed with an adhesive band that listed ingredients and the businesses we sourced them from. It also read "Savour Commercial Drive: Vancouver's Expressive Edge!"
Commercial Drive — Vancouver's Expressive Edge! has been the Commercial Drive BIA's slogan ever since — one of our first pro bono sevices to our neighbourhood. Definitely the best neighbourhood in the city if we do say so ourselves!