VQA gift box for our 2004 self promotion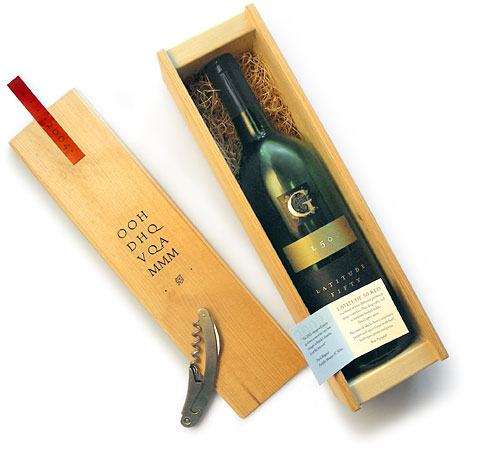 The 2002 vintage will surely go down as oe of the very best vintages in British Columbia, if not the best ever.
David Hopgood, Portfolio Manager, BC Wines
Challenge
Previous year's promotions that delivered sweet or savoury delights always drew the best response. The challenge this year was to come up with yet another delectable treat.
Solution
In 2004 there was a remarkable selection of 2002 vintage BC wines available. This vintage was arguably the best year ever for BC wineries. We were lost in choice, but after extensive tastings, we decided on Gray Monk's 2002 Latitude 50 Red. This blend of four different premium grape varieties produced a deep ruby red with medium body and a floral, spicy nose.
To package this fine wine we hand-made gift boxes with sliding lids that were the exact fit for each bottle. Each box also contained an insert with pairing suggestions and a premium quality stainless steel corkscrew.
After deciphering the clear adhesive label on the lid you had a hint of the contents. By all reports, one of the best received promotions we have done.