Organic wine vinegar gift box, pour spout & serving suggestions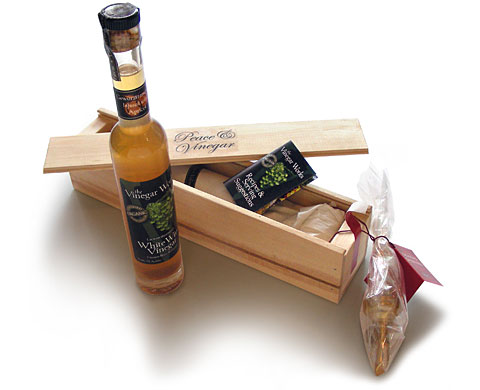 Peace & Vinegar! What cheek! Love the box and you'll have to send us the file for the little brochure. We're going to have to add this whole package to our product offering. Nice work!
Kim Stansfield, Owner, Vinegar Works
Challenge
We had already designed the labels for Vinegar Works organic wine vinegars, but wanted to create a gift package which included more information about the vineyard, business and product.
Solution
We built pine boxes with sliding lids that were the exact fit for a tissue-wrapped bottle. Each box also contained a little 8 panel booklet with serving suggestions; recipes and a brief story on the vineyard. Hanging outside the box in a cellophane-wrapped bundle was a weighted pouring spout with our seasonal greeting tag.
Kim and John, the Vinegar Works owner/operators liked the package so much they have sourced a box supplier in Summerland so they can offer the gift box as well as individual bottles.
"Peace & Vinegar" from Design HQ!
download booklet PDF (170 KB)