Origami card hi-lites Food Bank donation with a cappuccino on us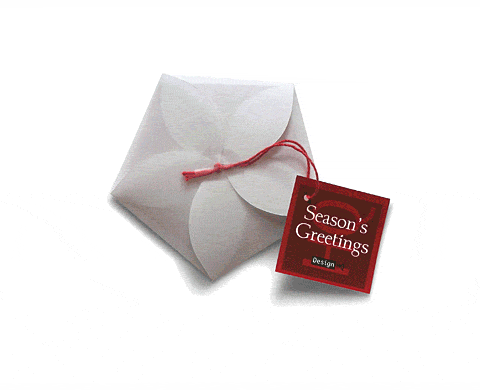 Challenge
After a decade of crafting savory promotional gifts for our friends and clients, we thought it was time to put the same effort into our community.
Solution
We made patterns from lino tiles and hand cut about 70 pentagonal cards; vellum wrappers and hang tags. The hang tag read "You may have had our cookies. You may have had our wine. You may have had our chocolate figs…" and as you opened the card, it read "This Season, rather than feeding you, we've donated $1,000 to the Vancouver Food Bank. But just so you don't feel left out in the cold… Come have a coffee on us at Prado Cafe — on the corner of 4th and Commercial. And since it's only a block from our office, we hope you come say hi!"
Prado collected the cards that were redeemed, but we're still waiting for Amy to give us a bill. Through purchasing arrangements negotiated by the Vancouver Food Bank, each dollar they receive purchases three dollars worth of groceries, so this year's donation stocked their pantry with $3,000 in groceries.