OneTouch DRM showcases meters with B.B. King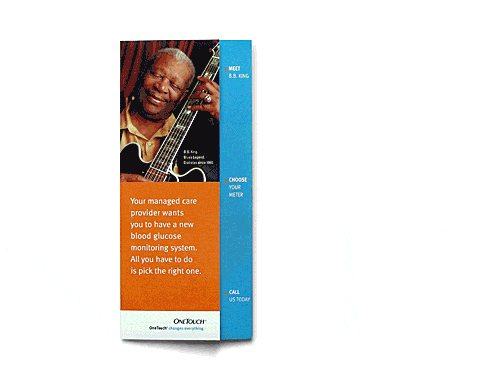 Challenge
Johnson & Johnson wanted an information piece for their OneTouch blood glucose meters to include in direct mail packages sent out by managed care providers in the USA. These packages are prepared as comprehensive information kits for diabetics. Each package would include information on a variety of blood glucose meters from competing manufacturers. Because of the direct competition in these DM packages, this piece for OneTouch really had to stand out from the crowd.
Solution
Rather than focus on the hardware and be reduced to a feature comparison between brands, we used B.B. King to put a face and real-life story to the product. B.B. has been dealing with diabetes since 1985 and his legendary blues guitar playing was the perfect opportunity to focus on a unique benefit of the OneTouch meters. Standard procedure for other blood glucose meters is to lance your finger for a blood sample. OneTouch allows you to draw a smaller sample from almost anywhere — your arm for instance. Since it's necessary to test daily, drawing blood — and more of it — from your finger is a real painful turn-off for many diabetics.
In the words of B.B. King, "B.B. doesn't like anything that hurts his hands."
This package within a package, included inserts on all 3 models available from OneTouch.