DRM drives traffic to website to accurately measure response rate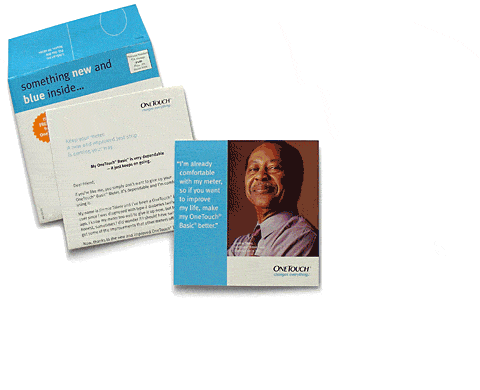 Challenge
The Johnson & Johnson OneTouch blood glucose meters all use test strips for analysing your blood samples. A significant portion of their market used older models meters. To provide new benefits to those customers, without asking them to upgrade their meters, OneTouch needed a Direct Response Marketing piece that announced their new test strips. These are easier to handle and hold; worked with half the amount of blood previous strips required and helped you avoid retests.
Solution
The square format of this DRM piece helps it stand out among standard envelope sizes. Your interest was piqued by the envelope offer of a free gift. Cover copy made an immediate connection with the established customer base that was likely reluctant to upgrade: "I'm already comfortable with my meter, so if you want to improve my life, make my OneTouch Basic better."
The larger-than-life strip image explains exactly how that's possible. "Less blood. Helps avoid re-tests. Same meter." Call-out captions explain "Oval test spot requires half the blood. New blue color highlights white test spot making targeting easier. Easy to handle and hold."
This piece includes a letter — one of the components guaranteed to increase response rates. The offer for a FREE 2-issue subscription to Diabetic Cooking — was fulfulled when you visited the OneTouch website, which provided one of the response measurement mechanisms.