Bold, stylish graphics also solve visibilty challenge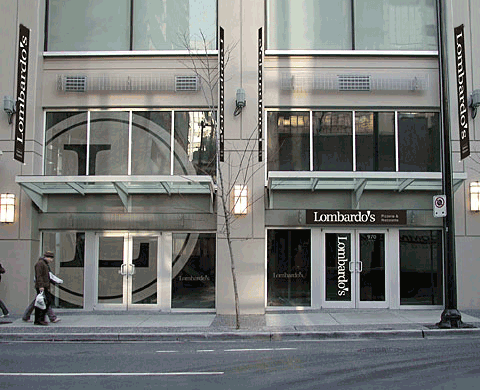 Challenge
Lombardo's new Vancouver location is situated mid-block on Smithe — a one way street that intersects Burrard — a major intersection for pedestrians and movie patrons. We had to design signage that was clearly visible at street level from either approach along Smithe. Rigid glass and steel awnings restricted under-awning signage to a maximum depth of 12" to comply with City regulations.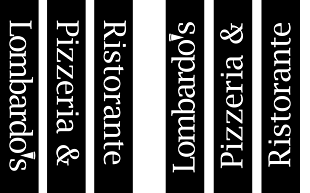 Solution
The Primary signage was planned as pairs of 2' x 10' vertical, stanchion-mounted banners mounted above the awnings, which are highly visible from either approach along Smithe Street.
In addition to this, the vertical logotype on the main entrance door is visible from sidewalk level, especially during summer months when the door is open and faces pedestrian traffic.
The restaurant front has fairly low visiblity from across Smithe, so we emphasized the 30' ceiling height and clerestory windows with the frosted glass circular "L" graphic. This window treatment also affords some privacy to patrons without completely obsuring their view of life on the street.