Macklam Feldman Management and Watchdog Management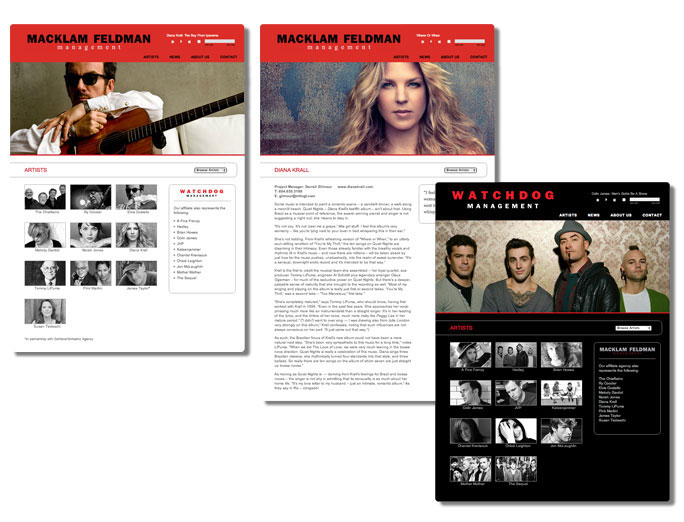 Challenge
Well, we couldn't have had a clearer brief for this project. "Showcase the talent. We want the artist roster front and centre because that's what we're all about."
Understandably, when you represent artists that include Elvis Costello, Diana Krall, Norah Jones, Ry Cooder, James Taylor, Melody Gardot, Pink Martini, Susan Tedeschi, The Chieftains, A Fine Frenzy, Hedley, Colin James, Mother Mother and The Sequel among others.
The client also wanted the ability to manage many of their updates in-house and had staff that were experienced bloggers, were familiar with Photoshop and had basic web skills.
Solution
We designed and delivered a pair of WordPress sites — one for Watchdog Management and one for Macklam Feldman. Each listed the talent roster for the other with reciprocal links. Each site included MP3 players with 60 second clips of all tracks from each artist's most recent CD, artist's bios, site links and management contact info.
The home pages use some custom programming and automatically populate linked thumbnails for each artist, the artist selection menu and the image rotator which uses the single static image from each artist's bio page. This streamlines site maintenance.