Events & catering package, Waterfront Centre Hotel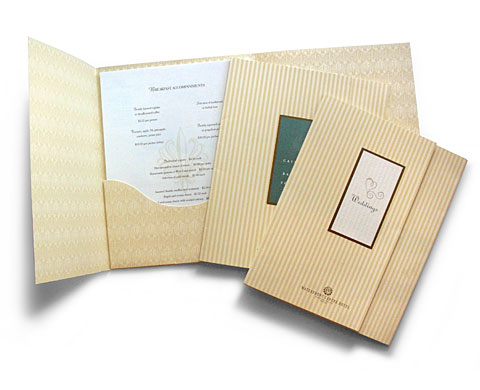 Challenge
Design a flexible, stylish system for The Waterfront's catering services.
Solution
This custom designed folder is assembled without glue. The gussets provided adequate capacity for some pretty hefty packages of information — floor plans, catering menus, special services, wine lists labour rates, coat checks, signage, AV and more.
The folders were differentiated with the addition of a rectangular label to identify the contents as 'weddings', 'catering' and 'banquet services'
The graphic pattern inside and out was created from fabric motifs used in the hotel's interior.
Result
The flexibility of this folder system let The Waterfront prepare tailor-made packages for any event without having to maintain an inventory of separate packages with redundant information or irrelevant inserts. The classic, timeless design and colour choice has kept these in use for years.