Photo-intensive website quickly max'd bookings!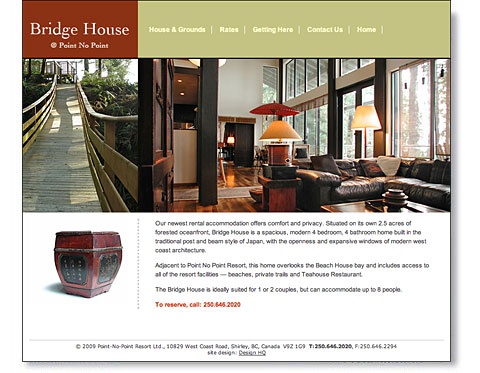 The site looks great and came together faster than we ever imagined. Your photos would be at home on the pages of Architectural Digest. Nice work. Thanks for another great job.
Stuart Soderberg, Owner, Point No Point Resort
Challenge
Brand this luxury west coast home while maintaining a connection to the more rustic, natural ambiance of Point No Point Resort which it belongs to. Price point for the house had to be higher than the best of the resort accommodation so we needed to clearly communicate its unique qualities.
Solution
Rather than include this new addition in the resort website, we built a micro site for the house that maintained a similar feel. This let us expand on the ammenities without being constrained by the single-image cabin description pages. To help establish it as a unique addition we named it Bridge House @ Point No Point — inspired by the suspension bridge from the house to the observation deck overlooking the beach. We stayed in the house for 4 days which let us observe the changes in light and atmosphere throughout the day and shoot every aspect under optimum conditions.
To further raise its profile, the site was linked from the resort site and we prepared a simple brochure that was available online and at the resort check-in desk.
Result
The comprehensive description and photos of Bridge House positioned it as the premium addition to the resort. Initial reluctance of repeat guests to book this option faded quickly once they saw the website. Within 5 months, bookings quickly surpassed 90% capacity and holidays were booked solid a year in advance.
Within the same period, traffic to the Bridge House site had reached half the volume of the resort site and continues to climb with thousands of unique visitors each month.