Resort brochure focuses on experience — not bed linens!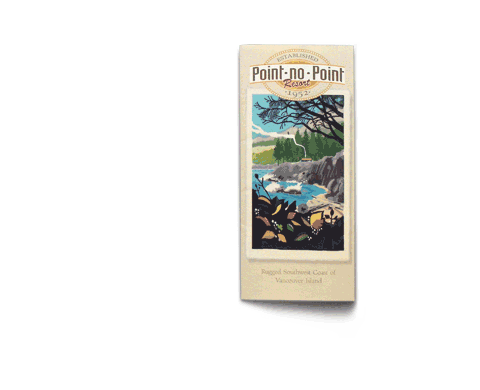 Challenge
Design a brochure that conveys the character of this distinctive westcoast resort.
Solution
The focus for this brochure is the setting — miles of private walking trails; the point; several private beaches; bluffs; crashing surf and wilderness. We paid just enough attention to the accommodation and teahouse restaurant to show the ammenities, but the primary focus was what to expect from this great spot.
As with the logo, the cover illustration was inspired by the Canadian Pacific Hotel branding of the 1930s. We had craftsman extraordinaire, Jim Rimmer* create an original 17 colour lino-cut image that touched on all the great aspects of this rugged westcoast setting. Jim also designed Amethyst — the distinctive font we used for this piece.
Unlike most accommodation brochures, copy is focused on experiences this place has to offer, rather than ammenities. With no phone, TV or internet, you do tend to enjoy the beaches, the crashing surf, a crackling fire and a cozy bed. Unwind!
Result
This brochure has been used as an example of 'how to do it right' at resort marketing seminars. Resort visitors often say it's the best resort brochure they've ever seen. After a decade of distribution and multiple reprints, it's now time for some minor updates like the addition of the website adress and perhaps a new cabin interior shot. Other than that, let's not mess with success!
Download brochure (688 KB PDF)
---
*Regretfully, Jim Rimmer died January 8, 2010 after a year-long battle with cancer. Jim was always a delight to work with. His high-touch, old-tech craftsanship was evident in everything he turned his hand to. We still have a few of his early digital fonts on floppy disks nestled into hand-cut, hand-bound, letter-pressed, chip board packages. Talk about attention to detail!
Jim also produced promotional pieces that were suitable for framing (many of ours are) and would drop them off occasionally saying "Just a little piece I put together to let you see what I've been up to." One of the most humble, talented, generous people we've had the pleasure of knowing. He'll be missed by many.