Ancillary revenue from signed, limited edition prints & posters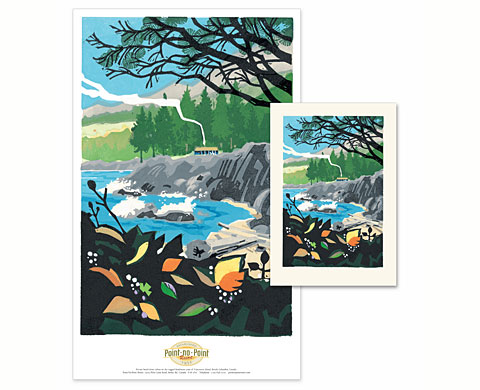 Challenge
Provide affordable, high-quality reproductions of the original image created by Jim Rimmer.
Solution
The 17 colour lino-cut print Jim Rimmer created for the brochure cover was so popular that people frequently asked if they could buy a copy of the resort's promotional brochure.
This prompted us to print reproductions in 2 formats — a high-quality, large format poster with logo and type discretely positioned so they could be matted out if you opted to frame the print, as well as a limited edition print on archival paper, numbered and signed by the artist. These prints were done same size as the original.
Result
These posters and prints let visitors leave with a beautiful, unique memento of their stay at Point no Point Resort and have created a new ancillary revenue stream for the resort.