Scholarship fundraiser wins 2010 Silver at CASE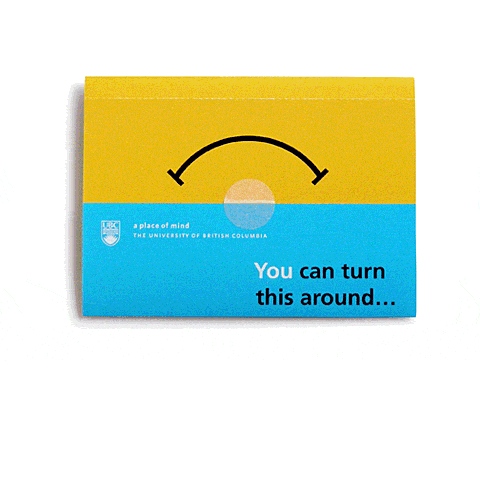 In this difficult economic climate, this piece was able to cut through all the clutter and get results. Another award winning piece from the Design HQ team! Thanks!
Suzanne Ostrow, Manager, Annual Giving, The University of British Columbia
Challenge
Create a direct mail piece to raise funds for the UBC scholarship program.
Solution
Turn that frown upside down!
The first-person letter from "B" — an anonymous undergraduate student — described the stresses of a student budget and the relief of receiving a bursary with the help of student financial services. Call-out quotes from "B's" letter reinforced what a huge relief a small gift can make.
This piece included a tear-off reply card and postage-paid self mailer envelope — one of the cardinal rules of good direct response marketing — include a clear, easy way to respond.
Results
Campaign results: 8.71% participation (up from 7.1% in the previous year); donations increased by 8%; ROI hit 305%!
This direct mail piece for UBC won a 2010 Silver for Direct Mail and Advertising for Fundraising in an international competition organized by CASE (Council for the Support and Advancement of Education).
Credits: Writer: Anna Lidstone, Designer: Kelly Brooks, Project Director: Suzanne Ostrow