Faculty & Staff fundraiser wins 2010 Bronze at CASE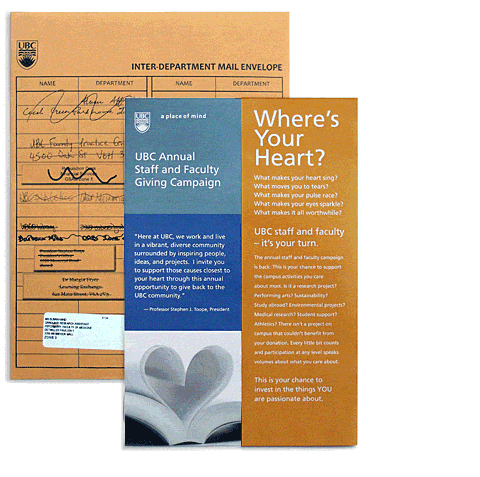 With such varied areas of support, I didn't know if it would be possible to capture the scope of what can be accomplished by staff & faculty. But this piece did it. Thanks for another award winner!
Suzanne Ostrow, Manager, Annual Giving, The University of British Columbia
Challenge
Persuade faculty and staff of the University of British Columbia to financially support what's near and dear to their hearts.
Solution
Tug at their heart strings!
"Where's your heart?" Words and pictures encompassed as many projects on campus as we could touch on — research, performing arts, sustainability, study abroad, environmental projects, medical research, student support, athletics … "Every little bit counts and participation at any level speaks volumes about what you care about."
Along with donations on-line or by phone, the perforated reply form gave participants 3 simple ways to donate.
The client's addition of the pre-printed Inter-Department Mail Envelope was brilliant. The university is a supporter of sustainability, but fundraising stats show that donations go down using email alone. The envelope ensured that the piece was opened by faculty and staff and it was used many times over - saving the need to recycle the piece after one use and also reducing the need to order more inter-office envelopes across the campus.
Results
Campaign Results: Number of staff & faculty donors increased by 189% this year over last and the campaign ROI hit 836%!!!
This direct mail piece for UBC won a 2010 Bronze for Direct Mail and Advertising for Visual Design in an international competition organized by CASE (Council for the Support and Advancement of Education).
Credits: Designer: Kelly Brooks, Writer: Anna Lidstone
Envelope credit: Elain Evans (Associate Director, Annual Giving)