Label design raises perceived value of premium product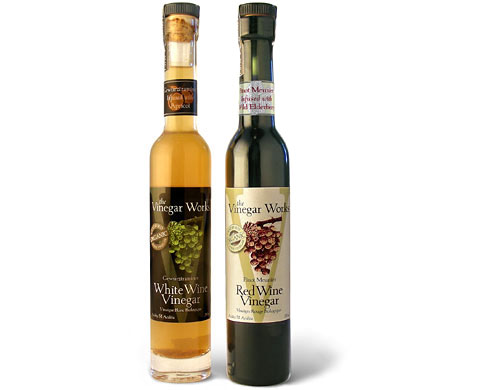 Love it. love it. love it. Nice work!
Kim Stansfield, Owner, Vinegar Works
Challenge
Vinegar Works needed a label design that worked for their two organic wine vinegars — Pinot Meunier and Gewürztraminer. The plan was to put the white wine vinegar in a clear glass bottle and the red wine vinegar in a dark green bottle. Simple enough, but each wine was available in Apricot, Elderbery, Raspberry and Italian Plum infused flavors for a total of 8 possible vinegars. As a start-up operation, we had to keep label inventory to a minimum.
Solution
Because the production volume was relatively low, packaging was geared to the retail market and positioned as a premium product. We designed two labels — one for each grape: Pinot Meunier and Gewürztraminer. The 4 infused flavors were handled with a set of neck labels — black backgrounds for use on the clear bottles and light backgrounds for use on the dark green bottles. The result was a minimum of label inventory that covered all 8 product variations.
Type designer, Jim Rimmer helped us cinch this label's unique flavor with his contemporary classic font Albertan.
Result
Customers constantly remark on the great shelf presence these products have. This combination of brand image and fine quality product, has also helped secure positions in the specialty retail displays at fine restaurants.
Vinegar Works Organic Wine Vinegars were awarded best processed organic product by the Certified Organic Associations of British Columbia. We can't be sure, but we hope the packaging piqued their interest just a little.
download PDF of labels (250 KB)