Co-op ads = consistent branding & great deal for merchants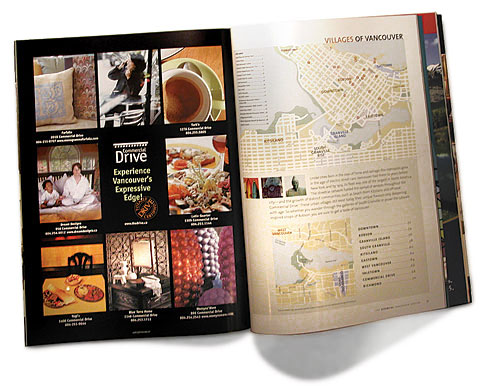 Commercial Drive is the most successful and longest running BIA and merchant group Vancouver Magazine has ever featured and have been a role model to other retail districts across the city of Vancouver. Congratulations! Keep up the great marketing.
Eve McKenna, Advertising Account Manager, Vancouver Magazine
Challenge
To develop an ad program for the Commercial Drive BIA that stretched our small $30,000 annual media budget as far as possible and gave a great sense of the neighbourhood as a shopping and dining destination. The BIA also couldn't afford high production costs above the media placement costs.
Solution
We designed a co-op ad page format that let participating merchants feature the shot of their choice with business name, address and contact information. We maintained control of the ad page appearance by providing the templates to publications. It is such an easily repeated format that their in-house production departments take on the production and media sales reps recruit advertisers for each insertion. The Commercial Drive BIA subsidizes the cost of each page by 33% and participating merchants share the balance.
Result
The BIA's $30,000 annual media budget expands to nearly $100,000 with frequency discounts and the co-op arrangement. It's also a great deal for participating businesses, increasing their profile with high frequency ads that reach over 19 million readers.