Sidewalk seal reinforces unique neighbourhood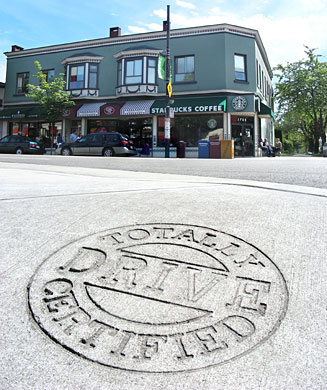 Challenge
City of Vancouver had a $6 million infrastructure project planned for Commercial Drive which included replacing the majority of the sidewalks in the spring of 2006. Not wanting to miss an opportunity, we wanted to improve the sense of place and visibly distinguish the Drive as a unique neighborhood within Vancouver.
Solution
Well, talk about taking branding literally! Working with the City of Vancouver public works department, we had our Totally Drive Certified seal stamped into our new sidewalks. We provide a file to public works so they could have a steel tool made for the finishing touch in the sidewalks at each intersection.
And they say that graphic design is ephemeral. Try casting it in concrete!