Website consistently #1 in search results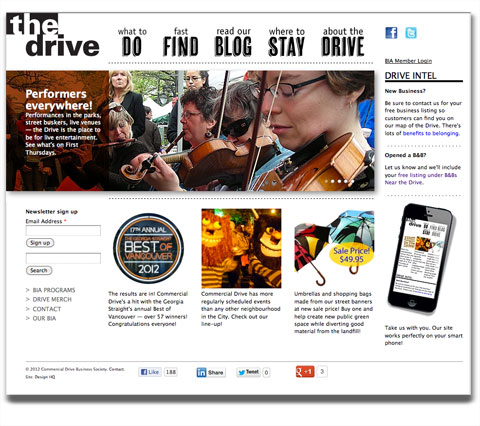 I frequently work on leasing agreements with clients across the country. Sending them thedrive.ca link is a great way for them to get a sense of the neighbourhood. They also take the BIA information seriously in large part because of the professional image this website projects. It has proven to be a great tool for my business and a great reference for my clients.
James Buonassissi, partner and property manager, Buona Holdings
Challenge
This site needs to promote Commercial Drive as a destination shopping district to tourists and resident patrons as well as distribute information and facilitate communications between business members, property owners and the Commercial Drive Business Society which manages this business imporovement area (BIA). it also had to maintain the great SEO efforts that went into the legacy flat HTML site. Our old business mapper used Flash, so that needed to be replaced for iPad and iPhone users.
Solution
Our talented Drupal programmer flawlessly implemented our new designs using a responsive theme to ensure that the site looked as good and functioned as well on desktops as it does on mobile devices. We integrated public and private subscribers lists with MailChimp to expedite email campaigns. The business listings database allows tagging businesses in multiple categories. They can be searched alphabetically or by multiple category tags and their location is displayed on Google maps with links to their respective websites. We imported ~1,600 pages of content from the legacy site in less than a week and added redirects as work progressed.
Results
Content can now be managed by the office administrator with limited support from us. And content can be accessed by all of us mobile device users. When the site went live, we had Google reindex content immediately to avoid any dip in search results. This search engine ranking is extremely important because the #1 position in search results gets about 45% of the traffic. Traffic shows a dramatic decrease to about 15% for #2 position and continues to fall for the last 8 positions on the page.
The site attracts over ~100,000 unique visitors annually from 135 countries and has become the 'go-to' source of information on the Drive for Vancouver residents and visitors alike.