Campaign dispells myths about who homeless are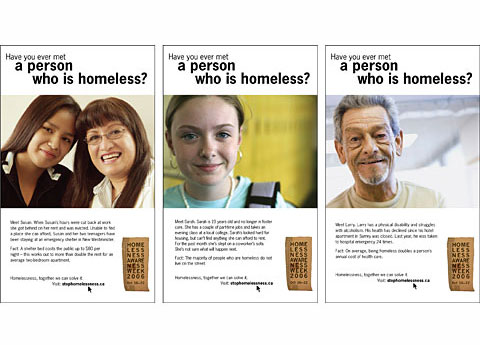 The website is looking very good. I like the clarity of language that you have used, and I really like the 3 ads – they show the breadth of the issue which, as you know, is one of my hobby-horses!
Margaret Condon, Project Coordinator, SPARC BC
Challenge
"3 Ways to Home" is the program developed by the Greater Vancouver Regional Steering Committee on Homelessness. The communications strategy developed by Ethos Strategy Group and our print media campaign had to hi-lite 3 Ways to Home, but because the program had little or no media exposure, people didn't 'get it'. On its own 3 Ways to Home was obscure.
Solution
Ethos crafted 3 stories that illustrated each facet of "3 Ways to Home" — adequate income; community support services; and affordable housing. They dispelled misconceptions about who homeless people are and explained the circumstances that can put a person in that position as well as the greater cost of not solving the problem. The photos we selected put an engaging face to each story. The ads, like the identity and website, used a no-frills approach that introduced homeless people as someone you probably know — or one of the 165,000 people working in Greater Vancouver who are at serious risk of becoming homeless.
sample ad PDF (120 KB)