Libraries distribute bookmarks that drive traffic to website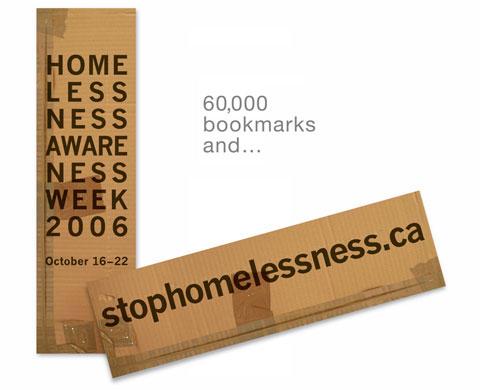 The site was visited by thousands of people, referenced through out the week's events, and continues to be visited by people who want to learn more about homelessness in Greater Vancouver. Homelessness Awareness Week 2006 moved the issue of homelessness in Greater Vancouver into the spotlight. The website was a major contributor to the successes of our first year.
Michelle Ninow, Regional Steering Committee on Homelessness
Challenge
Give Homelessness Awareness Week the highest possible profile within the month preceeding the event with a limited media budget.
Solution
Ethos Strategy coordinated press releases and the printing of 60,000 bookmarks that were distributed to public libraries throughout Greater Vancouver. Every piece of correspondence and print media included the URL for the website. Our site design included a Print & Web Resources page where you could download press resolution PDFs of our poster series; logo files; bookmark printing files; and even a side bar urging you to 'Steal these Banner Ads' and link to us from your website. Ethos also recruited Jim Byrnes' legendary blues voice and Bill Sample as producer for the public service radio announcements which closed with the URL for the website.
Result
In the month preceeding Homelessness Awareness Week, the website attracted 3,243 unique visitors. Since that time, traffic to the site has grown more than 40% annually. Banner ads were picked up from the site and linked from dozens of sites including cbc.ca, mathewgood.org and craigslist.com. The site continues to attract visitors from dozens of countries worldwide and has been used as the gold standard for other cities planning their own strategies to solve homelessness.