Demon character brands 7 Sins of Greenwashing campaign
I don't know whether Lise has shared with you what a phenomenal success this campaign has been so far. Among other things (TV, print, radio), Google [immediately had] over 46,000 hits on "six sins of greenwashing". Your work has been a great part of it. Thanks.
Scott McDougall, President, TerraChoice Environmental Marketing
Challenge
Design and illustrate a 'mascot' character for Terrachoice to accompany their "Six Sins of Greenwashing" campaign. Terrachoice surveyed over 1,000 consumer products and found that 99% of them committed at least one of their 6 sins (updated to 7 sins in 2009).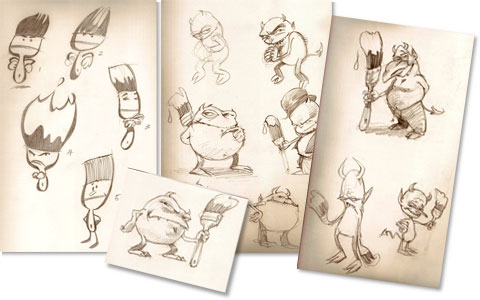 Solution
We retained the services of Michael McKinnell, virtuoso caricature artist and he worked up a set of demonic little imps that ranged from amusing to downright scary!
The final was illustrated — first in india ink and scanned as a line image — then rendered in full colour.
This imp has been a key component of our animated web banner ads; Terrachoice 'greenwash' labels; cover for their 'Green Paper' and a variety of other applications for print and web.
Nice work Mike!