Distinctive corporate communications rebrand Terrachoice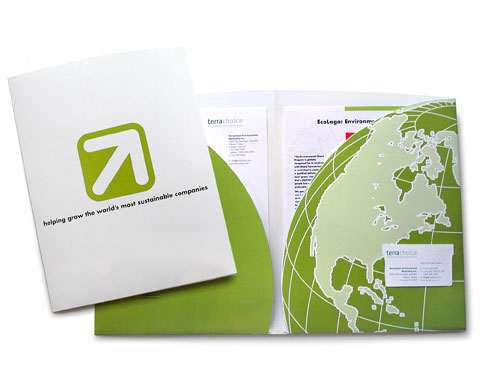 They look great Ian. Your redesign of all our corporate communications is the cornerstone of rebranding Terrachoice. This update was long overdue and a crucial component in in relaunching Terrachoice.
Scott W. McDougall, President/CEO, TerraChoice Environmental Marketing
Challenge
Design new marketing communications and redeisgn existing collateral material with the new terrachoice branding. These communications pieces had to brand TerraChoice as North America's premiere environmental marketing agency, and reinforce their ability to help clients advance their businesses.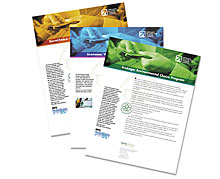 Solution
Growth was one of the key elements for our new designs. The inclined arrow graphic and adjacent phrase "helping grow the world's most sustainable companies" became the signature statment for all the print communications.
Our folder design incorporated 2 full-depth, semi-circular pockets which reinforced TerraChoice's North American scope.
Publishing files for brochures were provided to TerraChoice for in-house production of subsequent pieces.