CanWEA information kit covers all topics related to wind energy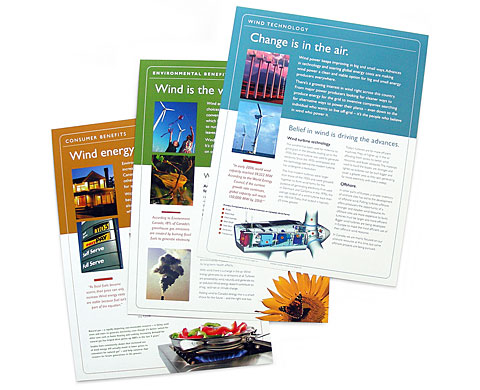 These are exactly what CanWEA needed and they've been indispensible for project developers that want to provide an engaging, quick study on all aspects of the wind energy industry in Canada.
Robert Hornung, President, CanWEA
Challenge
The Canadian Wind Energy Association needed an information kit for audiences that ranged from policy makers to individuals with little knowledge of wind energy. Potentially complex, technical information had to be distilled to a comprehensible, plain-language message — detailed enough to cover all the salient issues, but brief enough to be covered at a town hall meeting.
Solution
Our team was chosen from an overwhelming influx of proposals "… based on the depth of experience, strength and quality of design and creative approach". The information kit was intended for a broad audience that ranged from policy 'wonks' to the general public. It successfully distilled potentially complex technical information into a comprehensible set of visually engaging documents. This set of 12 information sheets covers everything from wildlife impacts to environmental, consumer, and community benefits. Amy Joseph's plain-english, benefit-oriented copy writing complemented visuals that ranged from baseballs to skillets to illustrate wind energy concepts and helped make this "… the best communications piece ever produced by this industry association."
Manon Laberge provided excellent French translations. Her ability to re-write concepts with the same tenor as their English counter parts, resulted in an engaging read in both languages.
download English PDF | download French PDF ( 3.0 MB) each