Vibrant street banners define destination shopping district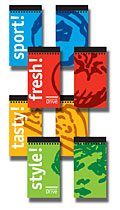 Challenge
The original Commercial Drive business improvement area (BIA) was about a mile long and was expanded in 2007 about another half mile south. One of the strengths of the neighbourhood is its diversity. Architecture ranges from heritage commercial buildings to modern mixed use commercial/residential. Businesses are predominantly single-location, owner-operated, which assures totally unique shopping and dining, but this diversity also makes it tough to perceive the neighbourhood as a single, cohesive retail destination.
Solution
Nothing pulls together a public space better than street banners. We have designed and produced each original set of designs for Commercial Drive since 2001. The original illustrations for 2 editions took tiny thumbnail drawings (1/4" to 1/2" in size) and enlarged them to the 32" x 60" reproduction size you see on the street, resulting in a beautiful, spontaneous line quality. The luminous, solid backgrounds pepper the boulevards with vibrant color.
When these banners are 'retired' we give them a second life as reusable nylon shopping bags — 100% of the proceeds from these go to a fund for development of new green spaces in the neighbourhood.
For a comprehensive look at all the banners we've designed for Commercial Drive over the years, visit: http://www.thedrive.ca/banners.shtm