News & Recent Work:
---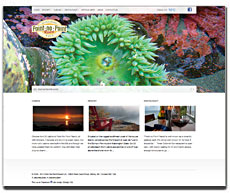 February, 2014
Point No Point Resort website
Our favourite West Coast Vancouver Island resort and long-term client. We just launched their new WordPress site which showcases the years of scenic and cabin photos that we've accumulated while holidaying and working there. Yeah. We know, it's a tough job, but sometimes we just have to cowboy up and get 'er done!
---
February, 2014
Association of Canadian Faculties of Dentistry
This bilingual WordPress site has cut the association's web maintenance time to a fraction of their previous system. We also reduced admin and updates by linking directly to the faculty information for each of the 10 univertities across Canada.
---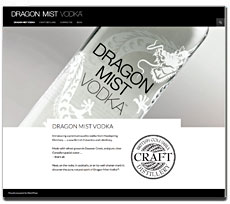 January, 2014
Dragon Mist Brand development
This new BC micro distillery retained us to develop their brand. Scope of work included name development, bottle design and packaging. Bottles are being manufactured now and product will be distributed in early 2014. Guess what we'll be serving for office libations!
Work included the bottle and box design, brochures, posters and sales collateral.
---
July, 2013
New website for Kristen Jones' Queen Bijoux
We used the Twitter Bootstrap theme for a new Wordpress site for Jeweller Kristen Jones. This fully responsive theme reformats content nicely for mobile devices — and looks great on your desktop too. Take a look!
---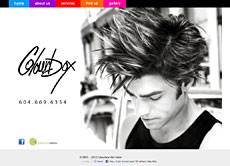 March, 2013
New website for Colourbox Hairdressing
Time flies! Our original website for Colourbox Hairdressing launched in 2005 and still looked pretty good (even with 760 px wide tables for those whopping 800 x 600 monitors). But after Barb mentioned how old it was, we thought perhaps it might be time for a little update!
---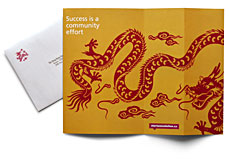 December, 2012
UBC fundraiser wins gold award
Our international DRM campaign design solicited the best response ever for UBC's Annual Giving international campaigns and netted a 77% increase in number of donors. It also garnered a gold award for best DRM brochure from the Canadian Council for the Advancement of Education.
---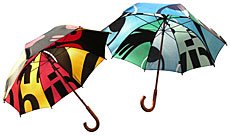 September, 2012
Project feature in Communication Arts Design Annual!
We're very excited to see our Commercial Drive umbrella project featured in the 2012 Communicaiton Arts Design Annual. When the street banners we design are replaced with a new edition, we turn the old ones into reusable nylon shopping bags and these vibrant umbrellas — just what you need to keep the rain and the winter blues at bay. Get the full story and buy one on-line!
---
August, 2012
Our first 'B' movie
Guess you could call this our pet project – literally. As neophyte apiarists, we set up a pair of bee hives on Galiano Island. In the last week of August we saw the workers evicting the drones. Here's a short video that illustrates just why it sucks to be a drone.
---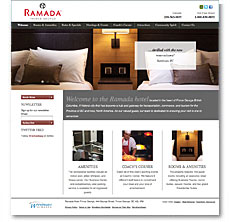 May, 2012
4 new websites for Ramada and Holiday Inn Hotels
We just launched 4 new custom-designed WordPress sites for Days Hospitality Inc — the parent company of a Holiday Inn and 3 Ramada Inns in western Canada. Our detailed proceedure guides got their admin staff up to speed quickly with WordPress. You can follow the links in the lower left of their site footers to see the sister sites.
---

January, 2012
Comprehensive branding for Propellor
From name development and logo design to writing, design and production of marketing communications and production of their new Wordpress site — start to finish was an 8 week project with a roll-out that we're all proud of!
---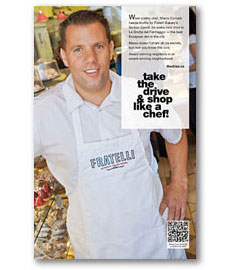 December, 2011
New advertising for Commercial Drive.
This campaign profiles some great Commercial Drive businesses and puts an unexpected spin on merchants by featuring them as customers. Our custom content on the Drive's Facebook page invites you to share similar Drive stories for a chance to win $500. If we use your suggestion for a new ad, you also get a $100 gift certificate to spend at the Drive business of your choice.
---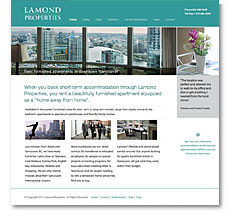 July, 2011
New website launched for Lamond Properties. Our new custom-designed WordPress site for Lamond Properties allows Wendy Lamond to login and keep her information current, post to the blog and easily administer the page images and rotators. The site uses several plug-ins including Yoast's WordPress SEO as well as Redirection to ensure all traffic to the old site automatically redirects to the equivalent page in the new site.
Visit the new website for Lamond Properties.
---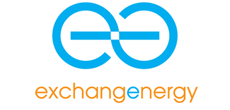 June, 2011
New identity and branding for Exchangenergy. The double 'e' infinite loop captures the unlimited potential of geothermal exchange systems. This technology is described by the US EPA as the most energy efficient method available for heating and cooling buildings. Cool! Hot! Yes, you can have it all! See our comprehensive branding for this renewable energy lleader.
---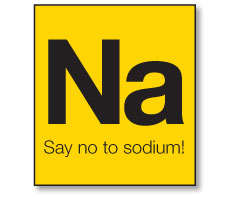 October, 2010
Na… How many ways can you say NO to sodium? Guess we paid attention in chem 12. Seems like the periodic table of the elements already figured it out. Visit the website to find out how to reduce your salt intake and live longer.
We thought salt shakers with no holes might be a good start! If you know a source, please let us know.
---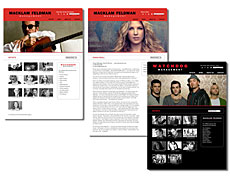 June, 2010
New websites for Macklam Feldman Management. Our new sites for Macklam Feldman and Watchdog management showcase a great talent roster including Nora Jones, Ry Cooder, Diana Krall, Elvis Costello, James Taylor, Colin James and Hedley to name a few.
Visit the sites where you can hear free clips of each track from their newest CDs.
---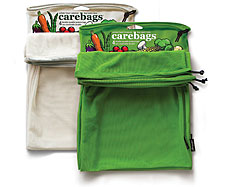 May, 2010
Carebags retail packaging lets you see and feel the entire product. The die-cut package card blends seamlessly with the product and is completely recyclable card stock. Read a brief before and after.
---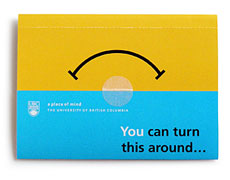 January, 2010
Silver Award Winner. Direct mail piece pulls donations for student financial aid and wins a Silver for Direct Mail Advertising for Fundraising in an international competition organized by CASE (Council for the Support and Advancement of Education). read more about this 2010 CASE award-winning DM
---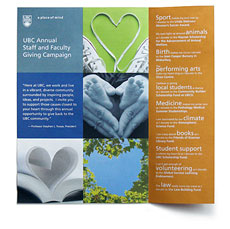 January, 2010
Bronze Award Winner. Direct mail campaign persuades faculty and staff of the University of British Columbia to open their wallets and financially support what's near and dear to their hearts.
And, in the process, wins a Bronze for Visual Design in an international competition organized by CASE (Council for the Support and Advancement of Education). read more about this 2010 CASE award-winning DM
---

June, 2009
Banner Bag project in CA! See our Commercial Drive banner bags project feature in Communication Arts Exhibit!
---

June, 2009
Work featured in Canadian Geographic! The June, 2009 issue of Canadian Geographic included a special poster/map insert about wind energy that features several Design HQ illustrations and charts. See how wind energy in Canada stacks up against the rest of the world; just how big these turbines are and how the industry has grown in the last decade. Download 3.7MB PDF
---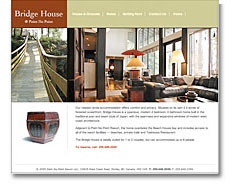 April, 2009
New addition to Point No Point Resort! This February we just couldn't avoid 4 days of location work at Bridge House — the newest addition to our favourite resort. Visit the new Bridge House website (don't miss their crazy introductory rates!)
See the companion website for the entire resort and the comprehensive branding program for our favourite get-away on the rugged west coast of Vancouver Island.
---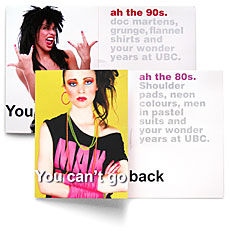 March, 2009
Despite a global economic meltdown, our direct mail fundraiser for UBC alumni generated more than a 31% increase in revenues; over a 22% increase in the amount of the average gift and more than a 15% increase in donors compared to the previous year's campaign.
And a Bronze for Direct Mail Advertising for Fundraising in an international competition organized by CASE (Council for the Support and Advancement of Education). read more about this 2009 CASE award-winning DM
---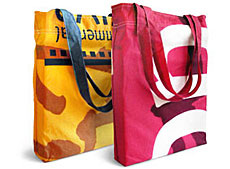 What to do with all those old Commercial Drive street banners we've designed over the years? Let's keep them out of the landfill and put them into the hands of Commercial Drive patrons as reusable nylon shopping bags!
Check out the reduction in environmental impacts this program has yielded as well as the amazing support of Commercial Drive retailers who are donating all proceeds to the creation of new public green spaces in the neighbourhood.
---
New website for a unique North American transport company. Since launching the identity in 1998, we have helped position Western Logistics as the preeminent office furnishings transport company. Their new website has just distanced them from the competition — again. See some of the other work we've done over the past decade.
---
Lombardo's has made award-winning pizza al forno for 20 years, but until this year, they went out the door in plain white pizza boxes.
Ah, with all due respect, this was not acceptable packaging! Take a look at our rebranding for this great restaurant.
---