Site Savvy: Enterprise-level Content Management System
Unimited Website Functionality
Good as they are, content management systems like WordPress eventually hit the wall, which has driven development of our enterprise-level alternative — Site Savvy. This PHP, open-source CMS links you to a wealth of existing modules that can be incorporated or tweaked any way you want. Beyond what's available, we program any new functions we need.
Site Savvy Supports Many Advanced Features
This view of the Site Savvy admin page shows the organization of sites and sections in the left column, page editing in the centre and advanced functions such as language versions and Content Mirroring in the right column. The live version of this page is shown in the inset.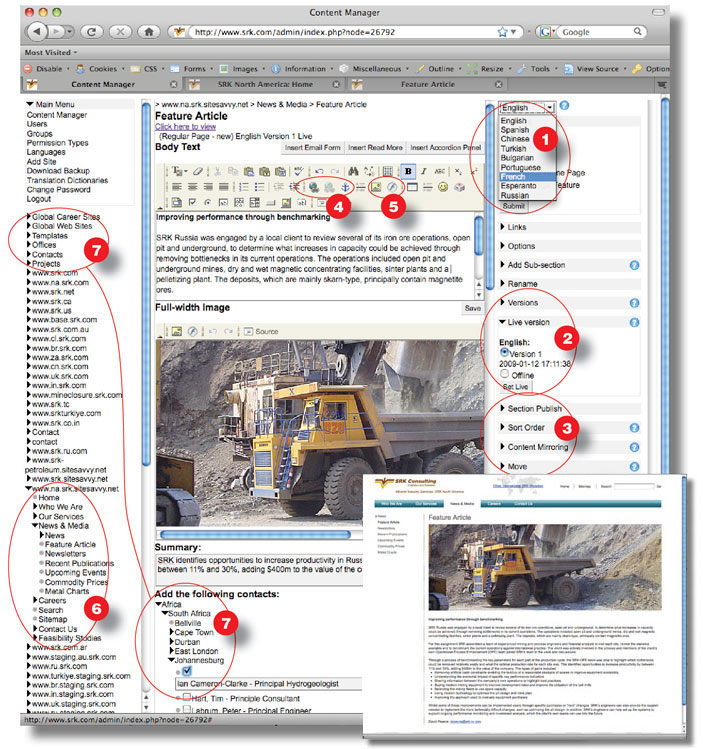 1 True multi-language — users can click between language versions for any page of your site
2 Create multiple versions of pages that can be set on, or off-line
3 Easily create, move or mirror pages to other sections (the same page can appear in several places, but be edited from any location)
4 Easily insert and edit links
5 Scale and optimize new images on the server at upload; embed video, Flash and other media files
6 See your entire site structure at a glance and select the page you want to edit
7 Create common content such as contacts, testimonials or case studies once, then use simple check boxes to include them on any page of the site.
I think the new websites are really good. We will definitely change over as soon as possible to the new format. The three sites done so far present a good unified approach. Well done!
Regards, Peter Williams (MAIG, FAICD), Managing Director, SRK Consulting, West Perth, WA Australia
Lower Site Maintenance and Higher Productivity
Our 2008/2009 design and integrated rebuild of SRK Consulting's 11 international websites (3 more in progress) is a perfect fit for Site Savvy. Shared, and unique, content is available in 6 different languages and can be iincluded or excluded on each site with a simple check-box. Single records of office locations populate bio pages; office contact lists; and location maps. Likewise, one personnel page can populate service contact menus; personnel sections; anywhere that information is needed.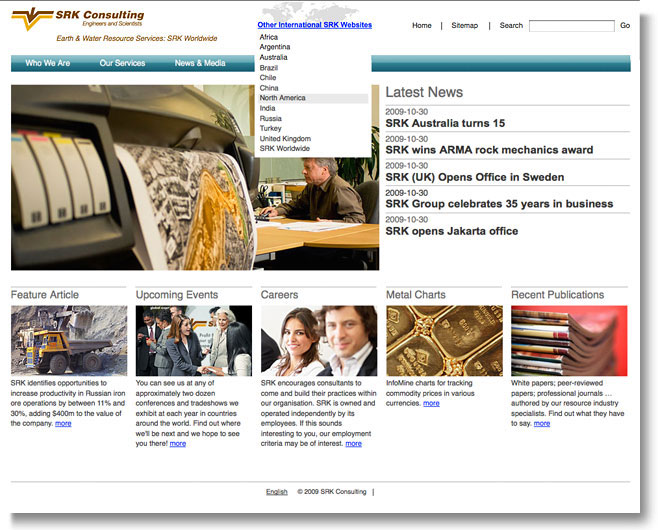 This fully integrated, enterprise-level, content management system allows SRK to manage a global network of websites from a single, shared administration system.
Terrachoice Environmental Marketing has used Site Savvy since spring of 2005 to market themselves to their growing roster of the world's most sustainable businesses.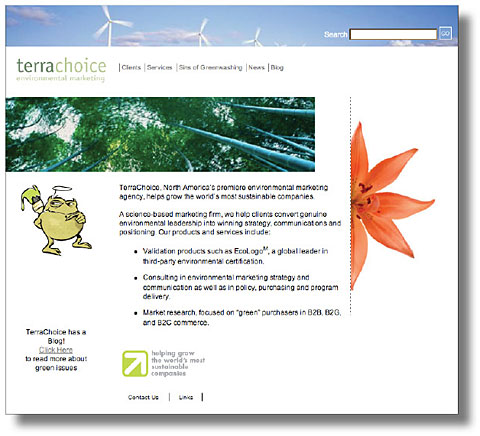 In addition to these and other sites, including e-commerce clients, a major Site Savvy overhaul is under development for the London Metro Police Department.
Aside from the benefits offered by this CMS, we have systems in place for DNS and IP-based fail-overs as well as redundant, automated back-up scripts — both of which help ensure reliable up-time and avoid data loss.
Site Savvy websites are hosted with Amazon Web Services which takes advantage of Amazon.comís global computing infrastructure — the backbone of their $15 billion retail business which they've honed continuously since 1996.