Fusion of style, substance and function
We pride ourselves on beautifully designed sites that work for you and your audience. They're clean and accessible; easy to navigate and update; search engine friendly and compatible with all current browsers.
Here's a brief sample of what we do and how we do it.
Loading…
You go first
Who are you? What's ahead? Global markets or village boutique? Where do you come from and where are you going? We design sites that connect you and your audience.
Getting a handle on these aspects of your business will guide us through development of a website that reflects your unique brand and core values — one that works now and adapts on the run.
Then we'll show some pictures
Our site designs start with layouts that show the home page and one or 2 subsection pages. We choose pages that represent most of your site content.
They show top level navigation and details such as drop menus. Combined with a simple site map, this usually is all that's needed to discuss content organization and design details. Following any necessary revisions and final approval, these are the blueprints for site templates and developing a functional shell site that's ready to be populated with images, text, media, PDFs…
Generally development of 2 or 3 pages in a single design theme is all that's needed. Occasionally we prepare several design themes as we did for Terrachoice.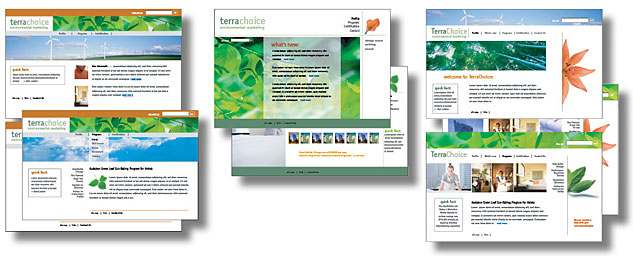 Concurrent Design/Build
While we're designing, we're also planning the best way to build your site.
Simple, flat HTML? WordPress Content Management System (CMS)? or more robust enterprise level systems such as Drupal? They're all good solutions for different reasons.
Take a look around. We'd love to discuss your website challenges.