Design HQ Inc.
1740 McSpadden
Vancouver, BC
Canada V5N 1L4
T: 604.255.0699
Home
Company
Our Company
Our Team
Our Services
Sustainability
Client Roster
Portfolio
Branding
SRK Consulting
Rebranding Process
Marketing Communications
Interntational Websites
exchangenergy
Logo Design
Comprehensive Branding
Marketing brochure
Case studies
Fleet graphics
Western Logistics
Identity
Website: westernlogistics.com
Terminal Signage
Fleet Markings
TerraChoice Environmental Marketing
Identity
Marketing Communications
EcoBuyer Branding
Greenwashing Demon
EcoMarkets Branding
7 Sins of Greenwashing
Commercial Drive
Identity
Shopping bags from old Street Banners
Advertising Campaign
Retail/Dining brochure
Co-op Advertising Program
Street Banners
Sidewalk Markings
Good Press
Website: thedrive.ca
Homelessness Awareness Week
Identity
Website: stophomelessness.ca
Print & Transit Shelter Advertising
Website Traffic Builders
Identities & logo design
Branding Case studies: Nokia, Apple and Bell
Websites
Web Design
Flat HTML Sites
WordPress Sites
Communications
Canadian Wind Energy Association
Wind Energy Information Kit
Wind Energy Case Studies
Trade Show Booth
SRK Consulting
Marketing Communications
TELUS
Insight Magazine
Future Friendly Home Sales Kit
Insight Magazine
Direct Marketing
University of British Columbia
Scholarship Fundraiser wins 2010 Silver at CASE
Faculty & Staff Fundraiser wins 2010 Bronze at CASE
Alumni Fundraiser wins 2009 Bronze at CASE
TELUS
Expand Your Opportunities
Buddha Board: Mobius Award Winner — Best of Show
Brand Builder for TELUS Employees
OneTouch
UltraSmart DRM
Test Strip Launch
OneTouch Gold CRM
B.B. King Meter Package
Intrawest
Abercrombie & Kent / Intrawest
DRM Playbook
DRM Update: newsletter
Packaging
Self Promotion
Food Bank Funding
Vinegar Works Gift Box
Gray Monk VQA Gift Box
Greeting Card Gift Package
HO, HO, HO, HQ Gingerbread Cookies
Commercial Drive sampler
Chocolate Dipped, Marzipan Stuffed Fig Gift Box
Electro Systems
Propane Detectors Retail Packaging
Propane Detectors Electronics Housings
Vinegar Works
Organic Wine Vinegar Labels
Vinegar Works Gift Box
Wine Vinegars Dangler Booklet
Hospitality
Lombardo's Ristorante & Pizzeria
Lombardo's logotype
Banners & Window Graphics
Secondary Brand Graphics
Pizza Box
Stationery
Animated email Invitation
"Bookmark" Map & Coupon
Lombardo's Menus
Mother's Day Promotion
Restaurant Menus
Terminal City Club
Waterfront Centre Hotel, Catering Package
Pan Pacific, Pacifica Café
Heron's Restaurant, Waterfront Centre Hotel
The Pointe Restaurant, Wickaninnish Inn
Lions Pub, Terminal City Club
Lombardo's Pizzeria & Ristorante
Special Event & Seasonal Menu Brochures
Point no Point Resort
Point no Point Resort Identity
Point no Point Resort Website
Point no Point Resort Brochure
Limited Edition Prints & Posters
Exterior Signage
Stationery & Guest Information System
Bridge House website
Calculators
Hand-held Benefit Calculators
On-line Hemp Garment Benefit Calculator
On-line Environmental Benefit Calculator for Recycled Paper
Hand-held Environmental Benefit Calculator for Scott Paper Tissue Products
Calculator Enquiry Form
Retouching
News
Contact
What a great place to work!
One suite of our 1906 character duplex is office to Design HQ — just a half block off Commercial Drive — ranked by Utne Reader as one of North America's 10 hippest neighbourhoods!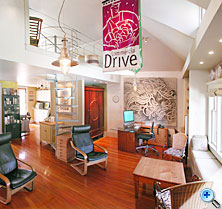 Great work; great digs; great clients! Doesn't get much better than that.