> More SRK Consulting:
1|2|3|4|5
SRK rebranding
Loading…
Challenge
Rebrand SRK Consulting whose identity remained essentially unchanged for nearly 40 years. The logo had considerable brand equity within their industry and the flat corporate structure of the company required consensus from the 10 primary consulting practices around the world. This meant all presentations, reviews and input had to be obtained electronically and disparate time zones made teleconference difficult to impossible.
Solution
We prepared fillable PDFs that were distributed to all the key decision makers in the organization. Initial documents provided a recap of the company's identity and drew comparisons to the evolution of other strong global brands. Subsequent documents provided crash courses in colour theory to identify strong colour options and discussed considerations such as typography and aspect ratio. Weighted responses guided each next phase in the brand development.
Outcome
Our approach let participants provide input and see measurable progress. Egos (including ours) took a back seat to clear, even direction from the principals of the organization. What could have become an unwieldy process for such a large group scattered around the globe was managed with a smooth efficiency that maintained momentum.
After exploring a gamut of entirely new design concepts the ultimate solution retained an updated version of the chevron coupled with contemporary typography and vibrant colour.
The brand equity established over more than 3 decades as an industry leader remained intact within a fresh, vibrant corporate image.
Read more about our design process to rebrand SRK Consulting.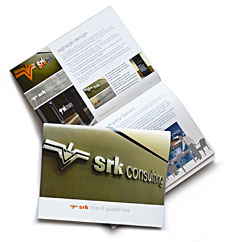 Comprehensive style guide provides graphic standards, templates and suggestions for everything from correct logo usage to preparation of display ads, booth graphics and marketing brochures.