> More SRK Consulting:
1|2|3|4|5
SRK rebranding process

Challenge
The original SRK logo was designed in 1974 and, with occasional minor updates, evolved into the 2010 version you see below. The corporate image it projected was firmly rooted in the 70s.


Despite being dated, it was familiar. The company's 'flat' organizational structure meant that reviews, input and final approval for a rebrand had to come from the 10 key consulting practices of their 45 global offices.
Solution
We initiated a remote consultation/review process using fillable PDFs. These documents recapped the evolution of the logo up to its 2010 version and suggested possible new directions such as illustrating key corporate attributes — solutions, built structures, sustainability, etc.

Subsequent PDFs provided crash courses in colour theory to help narrow a potential colour palette. They explained typography basics, considerations such as aspect ratio and reproduction challenges. We looked at acceptable and unacceptable variants of the final design.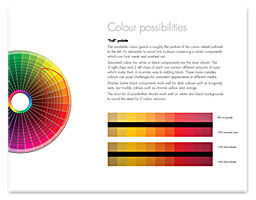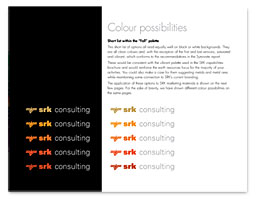 Throughout the process, each fillable PDF contained a form on the last page to gather weighted responses to the options that were presented.
Outcome
By following a logical progression of ideas from broad general concepts to fine-grain details and canvassing all the key decision makers around the world, we successfully reached a consensus on the first significant update in nearly 40 years. The process took about 10 months to complete and was followed by preparation of a suite of logo files for positive and negative reproduction in spot, process and RGB colour on coated and uncoated media.
Correct application of the logo, along with examples and links to resources for print communications, stationery, signage, display graphics, ads and more were included in a comprehensive style guide. That guide is also available in PDF chapter form through a discrete URL on the corporate website and via links on SRK's Sharepoint server.